Support KGNU on #GivingTuesdayNow!
---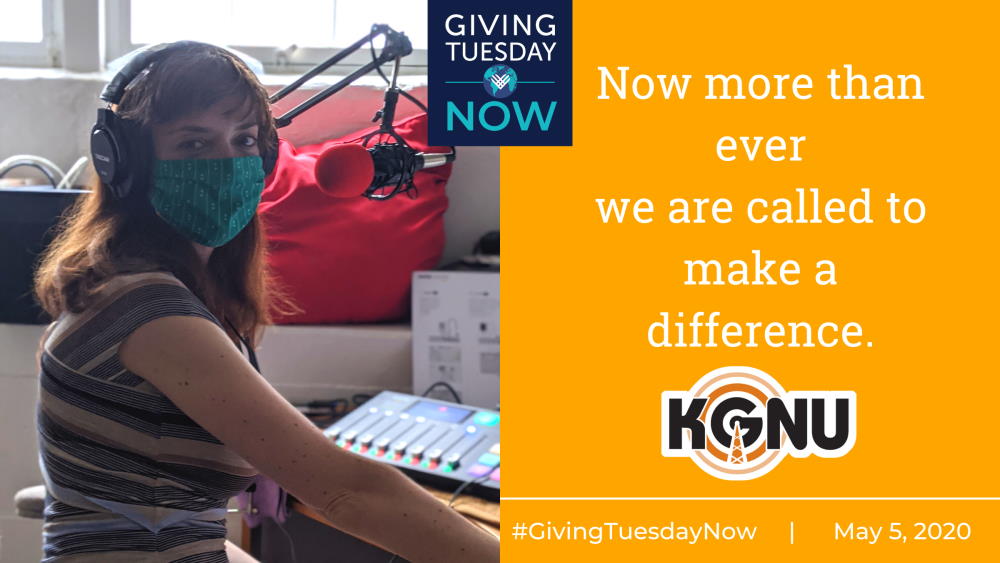 KGNU is participating in #GivingTuesdayNow on Tuesday, May 5. #GivingTuesdayNow is a global day of giving and unity as an emergency response to the unprecedented need caused by COVID-19.
Please consider making a gift to KGNU to help us provide expanded news coverage of the COVID-19 pandemic including up-to-date news and resources.
All donations are tax-deductible, and 100% of funds go directly to KGNU so we can cover costs associated with the sweeping changes necessary for us to stay on the air, including new equipment to ensure the safety of our staff and volunteer producers and DJs.
[button color="success" link="https://give.kgnu.org/one-time-donation/" size="large" icon_before="fas fa-dollar-sign" target="_self" block="false"]Make A One Time Donation![/button]
[button color="success" link="https://give.kgnu.org/monthly/" size="large" icon_before="fas fa-dollar-sign" target="_self" block="false"]Become A Monthly SOLR Member[/button]
[button color="royal" link="http://www.kgnu.org/index.html" size="default" icon_before="fas fa-arrow-right" target="_self" block="false"]Continue to KGNU.org[/button]
[button color="pearl" link="http://www.radiorethink.com/tuner/?stationCode=kgnu" size="default" icon_before="fas fa-headphones" target="_blank" block="false"]Tune In[/button]