Spring Fund Drive: March 6 – 14
Thank you to everyone who helped make the KGNU Spring Fund Drive successful!
Thanks to all of the listeners, members and volunteers who fuel KGNU!
Your contribution makes it possible to keep the community informed, engaged, and entertained no matter how challenging the times may be.
If you did not get a chance to donate during our drive, you can make your contribution by clicking one of the buttons above.
Our offices remain closed to the general public. All thank-you gifts will be mailed.
---
KGNU Radio's Spring Fund Drive is March 6th through the 14th, with an invitation to Spring Forward with KGNU! The drive will feature special music and news programs, thank you gifts, and more!
We can't do this important work without your help. Our listener members provide the biggest share of our funding that makes everything we do at KGNU possible-local news, eclectic music discovery, and media training programs. Won't you join them?
Make a contribution to KGNU anytime now through March 14 at 11:00 a.m. Mountain time and you will be entered into a drawing to win a two-night stay at one of two YMCA of the Rockies locations – Estes Park Center or Snow Mountain Ranch.
Sustainers of Local Radio (SOLR) members will automatically be entered into this drawing. Full contest details
On-Air Goal: $100,000
Special Programming
Our committed hosts and DJs will feature special drive programming including interviews with authors like Tim Wise about his new book Dispatches from the Race War, a special edition of Alternative Radio featuring Ralph Nader on corporatism's threat to democracy.
We're also featuring several music specials in honor of Women's History Month, like Women in Folk music, a Frank Zappa Special, The Grateful Dead Rare Tapes Special (March 13) and so much more!
Music Specials
All Spring 2021 Music Specials
The Best Day of Radio on Earth!
Spend Your Saturday With KGNU – Sat Mar 13 at 6:00 a.m. with your favorite KGNU DJs
The best day of radio on earth! Honky Tonk Heroes, followed by Old Grass Gnu Grass, and stay with us for an afternoon of energetic, eclectic music from all over the world with Terrasonic, Reggae Bloodlines, African Roots, and the five hour Grateful Dead Special.
---
Grateful Dead Rare Tapes Special
Grateful Dead Hour – Sat Mar 13 at 7:00 p.m. with Chris O'Riley and Paul Epstein
Five-hour special featuring rare tapes and concert archives.
---
History of Rock in Boulder
Roots and Branches – Sun Mar 14 at 9:00 a.m. with Leland Rucker and Rick Roberts
An exploration of the history of rock & roll in Boulder, CO.
---
News Specials
Our team of News & Public Affairs producers has put together a slate of special programs that will leave you glued to your dial.
---
Thank You Gifts
Please note that our offices remain closed to the general public. All thank-you gifts will be mailed.
Questions? Please contact Verity Matthews KGNU Membership Coordinator, membership@kgnu.org or (303) 449-4885.
Featured for Spring – Limited Edition Blue KGNU Bandanas!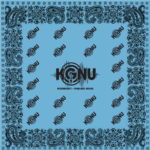 Available for a donation of $60.00 (or a $5/month SOLR membership).
T-Shirts
Available for an annual donation of $88.50. Availability of sizes, colors, and styles may be limited.
---